This doll body is 22cm tall, or 9", hence the name Ninie.
It was manufactured by C-Works in 2001, in collaboration with Noix de Rome, but there is a possibility that it was a modification of Nini, a doll body presented at 1999 Wonder Festival by Lay-up.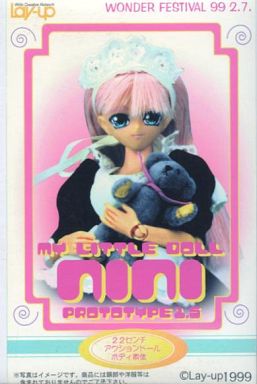 The body has at least two bust sizes and one (natural) body colour. Hips and shoulders are ball-jointed, while elbows and knees are double-hinged. Hands are interchangeable and, as well as feet, are made of softer vinyl. The rest of the body is hard and shiny ABS.
An interesting fact: two different companies made their Serial Experiments Lain dolls on the same Ninie body (see Serial Experiments Lain and Collector's Action Doll Lain).
Ninie line:
001. Nanako (Maid Ver.)
002. Dead or Alive Kasumi
003. Dead or Alive Ayane
004. Nanako (Nurse Ver.)
005. Love Hina Narusegawa Naru
006. Love Hina Maehara Shinobu
007. Love Hina Aoyama Motoko
008. Love Hina Otohime Mutsumi